So lat­er that day, we all piled on to a bus going to the Mall of Ara­bia in Jed­dah. It takes about an hour to get there from KAUST. One of the perks is that we didn't have to stop at the check points to have our ID's checked, as we all had giv­en our names and ID's upon enter­ing the bus. KAUST does have quite a few ben­e­fits. So we left at 5:30 pm and got there an hour lat­er, then had to be back to catch the bus at 11 to arrive back at KAUST a lit­tle after mid­night. The var­i­ous neigh­bor­hood bus­es were all wait­ing when we returned, so we got on the Pur­ple Bus to come home and he drove us straight to our house. The bus dri­vers know where peo­ple live, since it's such a small com­mu­ni­ty and most peo­ple take the bus to get around.
Again, these are all just with my iPhone with no flash. And many were on the bus, which blurred them a bit. These pho­tos show a lot more peo­ple than oth­ers in pub­lic places that I've post­ed. They were enough at a dis­tance that I didn't think it would be a prob­lem. Most­ly the women are in black and the men are in white or West­ern attire.
Leav­ing KAUST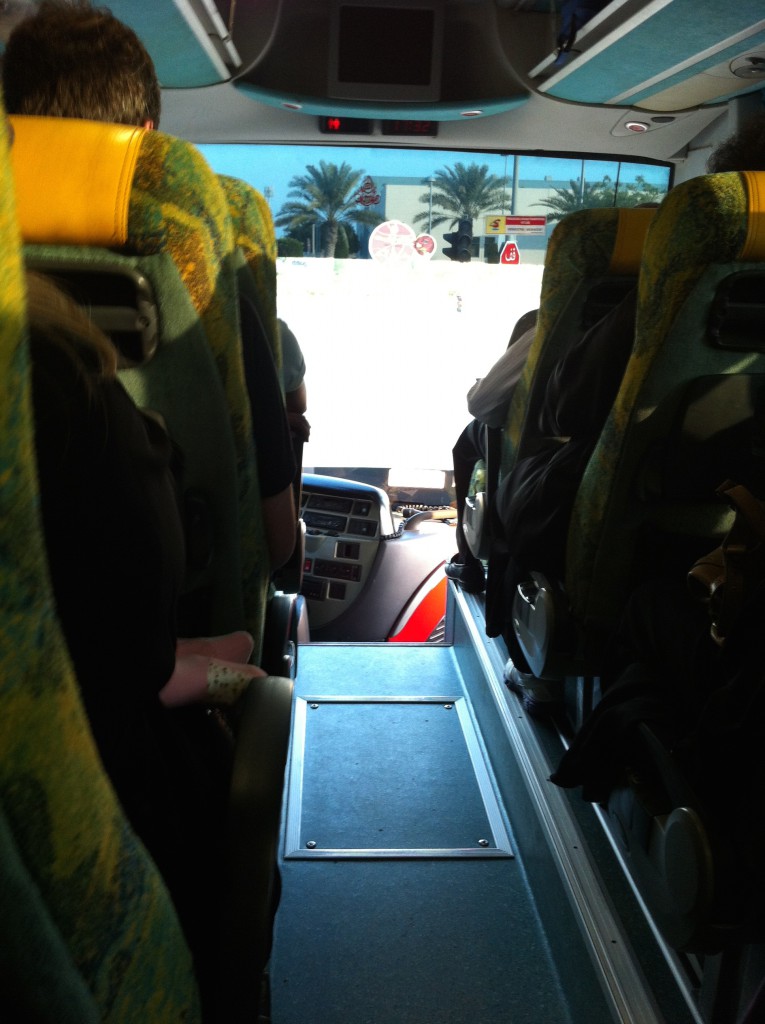 The sun set on our way to Jed­dah.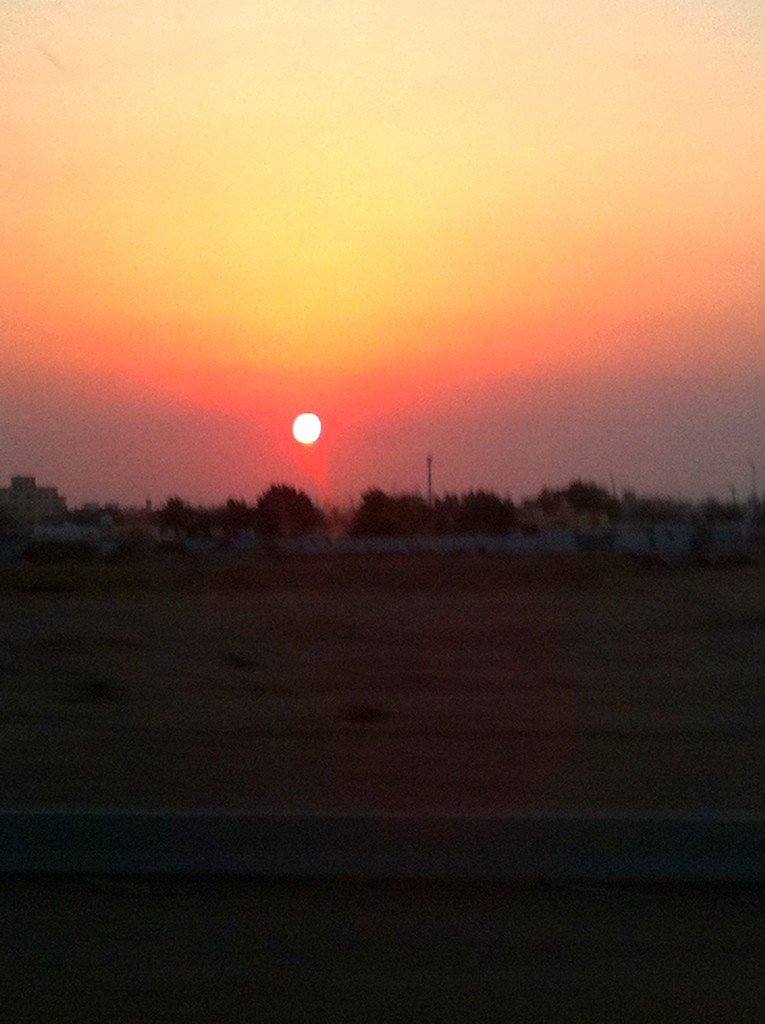 As you can see, it's most­ly desert with a few small towns. I've noticed that when peo­ple pull off to the side of the road, they pull WAY out (much more than we would in our des­ig­nat­ed shoul­ders).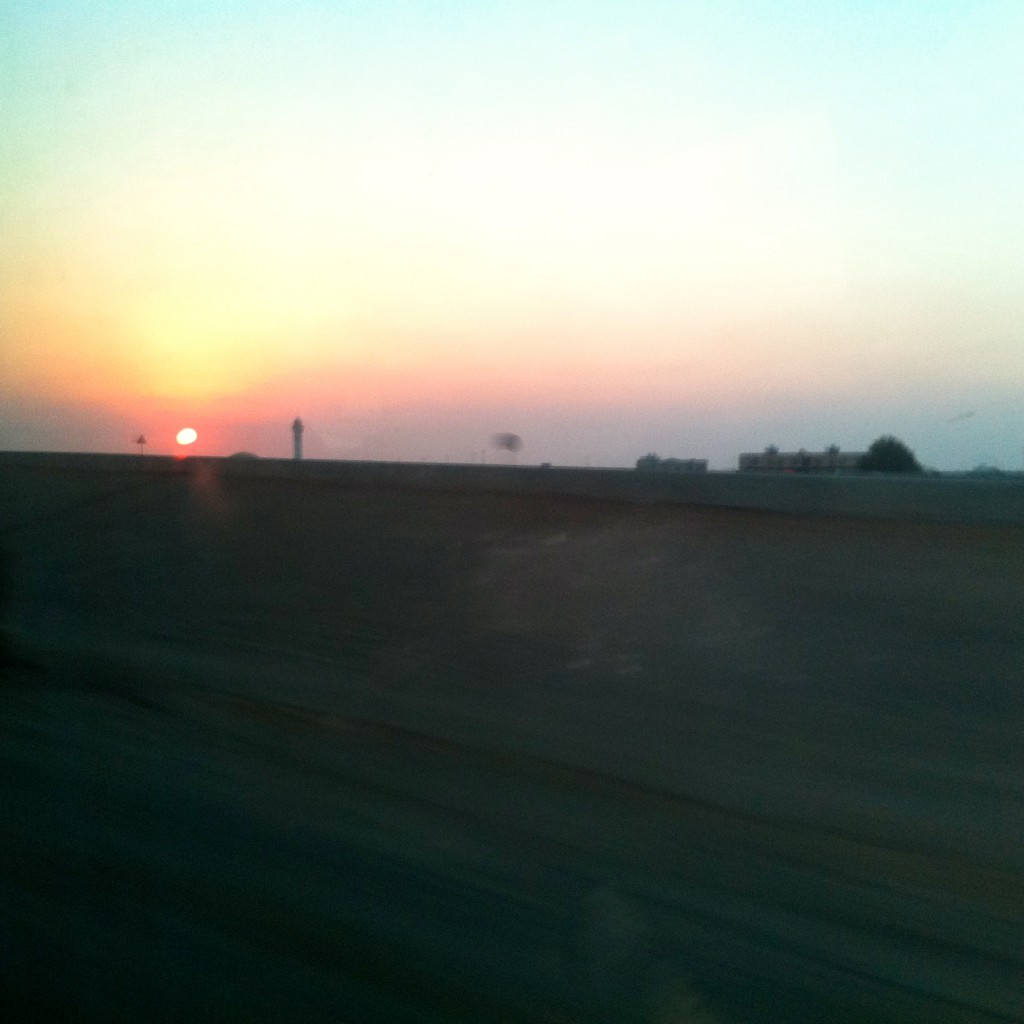 Com­ing into Jed­dah… it's a huge city.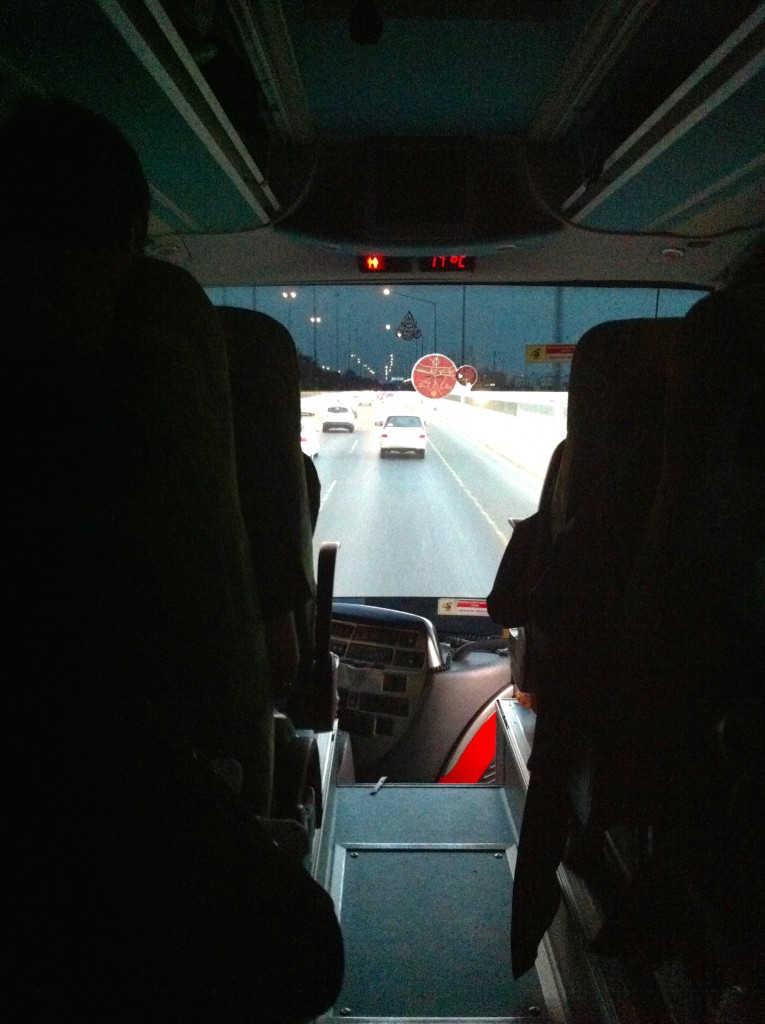 Get­ting off the bus.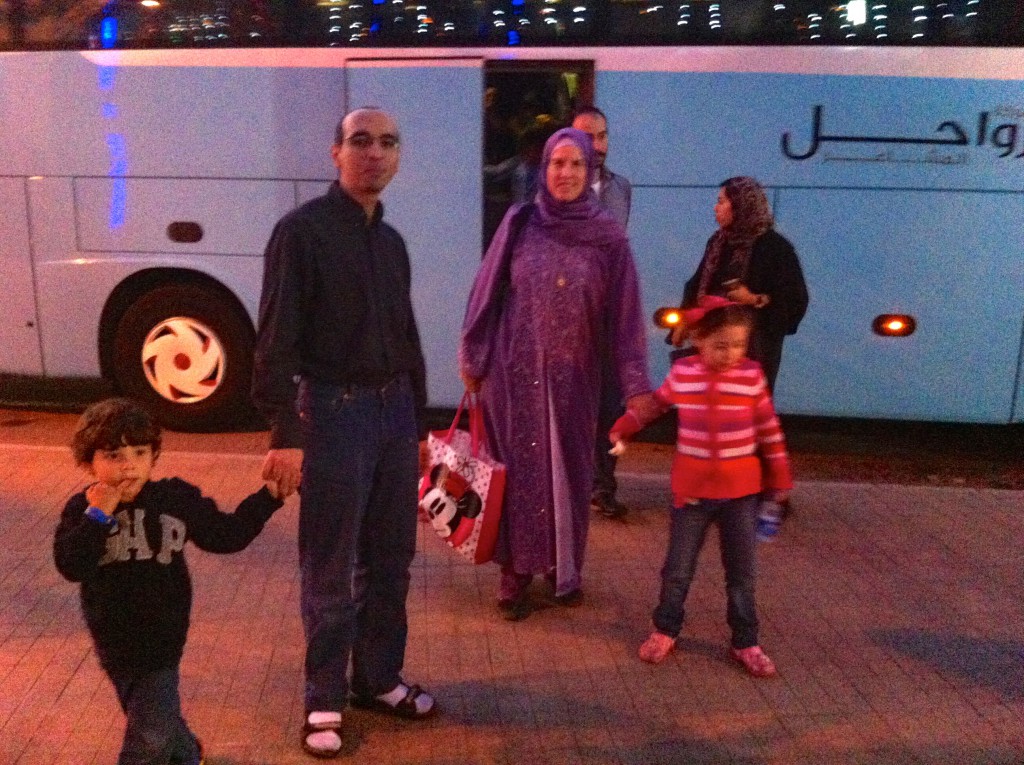 The Mall of Ara­bia. Pret­ty, isn't it?
Here I am with Maus­ki. I wore black and cov­ered my hair.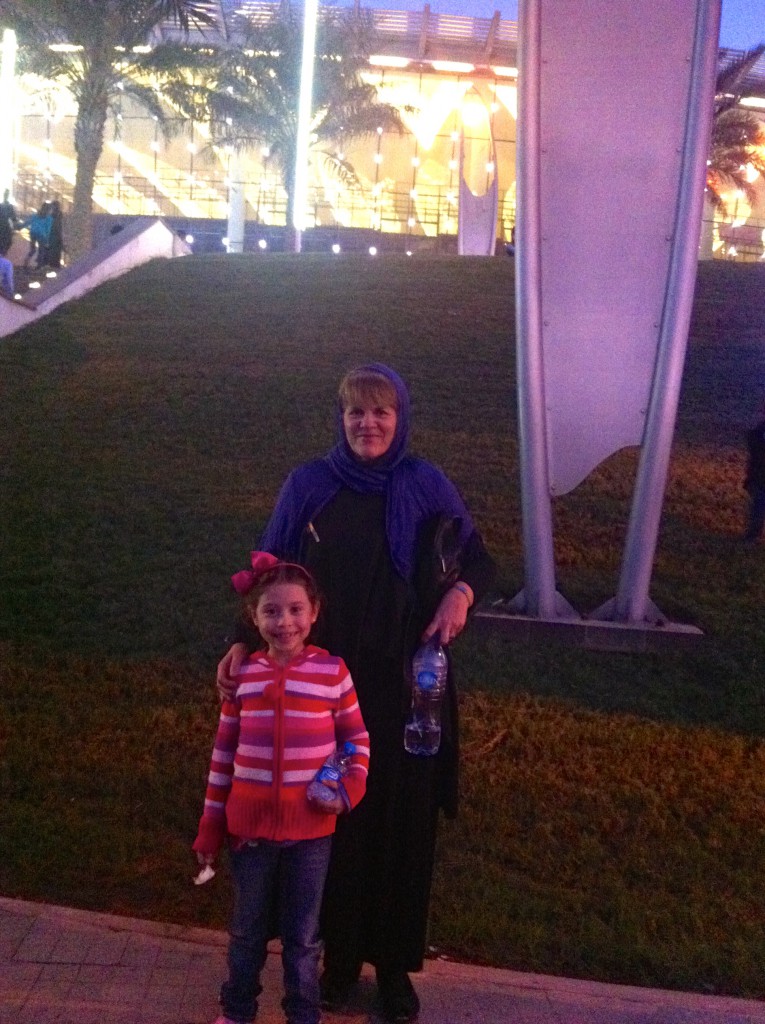 A line of taxis wait­ing out in front.
Just inside the entrance.
We got there around the time of next to the last prayer of the day, so short­ly after that, the stores opened again after being closed for half an hour or so. We made our way to the bath­rooms upstairs. The prayer rooms are inside and off to the side of the bath­rooms.
We were in Cen­tre­point for a few min­utes before they start­ed announc­ing clo­sure for the last prayer. After­ward, they turned out the lights and closed the front gates.
We ordered our din­ner from this place serv­ing Yemeni food. It was Muta­baqi­ah Yemeniyah and very tasty. One cheese and the oth­er spinach? Any­way, it was real­ly good.
This is Pan­da, the gro­cery store inside the mall, where we met Mohamed after he'd done a lit­tle shop­ping.
A cou­ple shots of the bath­room. I dis­cov­ered AFTER I used this that there were also some reg­u­lar toi­lets avail­able.
On the bus going home.
One of the check points we didn't need to stop for.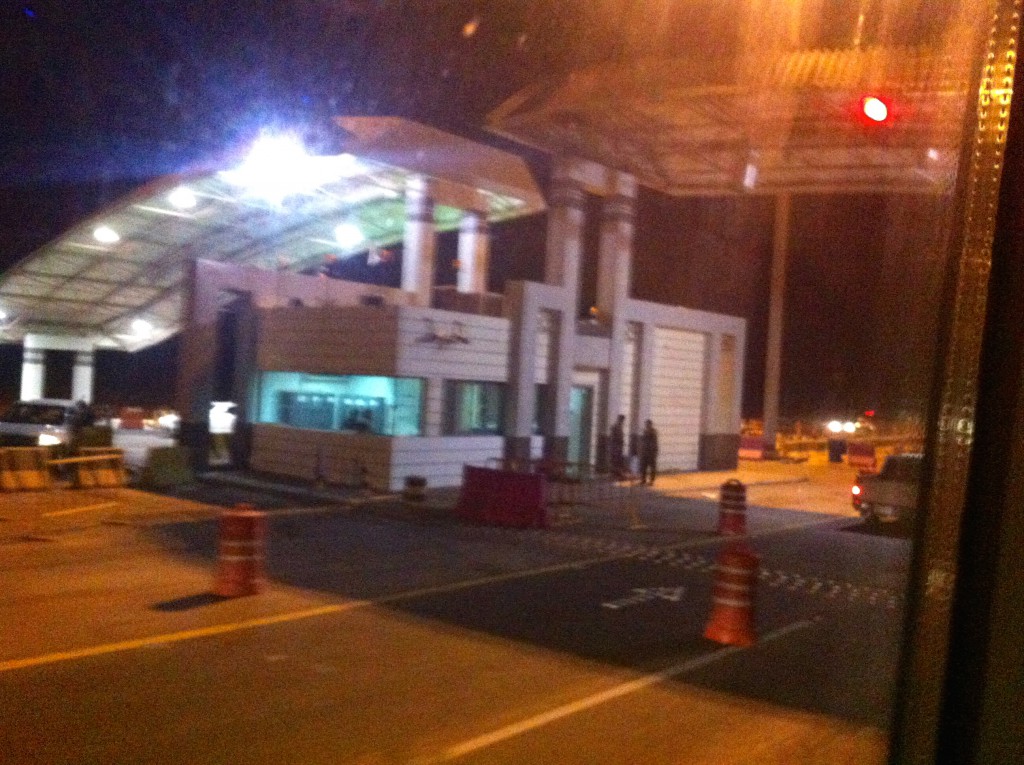 There were an amaz­ing num­ber of trucks pulled off to the side of the road on our way home, pre­sum­ably with the dri­vers sleep­ing.
One of the two check­points com­ing back into Kaust. They did check our ID's at this point.